Never to be forgotten
Armistice day not only brings a lump to my throat but tears to my eyes. And this year with the centenary coverage, more people than ever have been reflecting on the bravery of those that fought.
"Never in the field of human conflict was so much owed by so many to so few." Churchill was talking about the RAF and what we now know as the Battle of Britain, but it equally applies to our brave military across the ages. The First World War was so barbaric we thought it could never happen again in Europe. How wrong we were!
Two films I watch whenever they are on the television. The Longest Day and The Battle of Britain. There are moments in the films that I find incredibly moving. Such as when Lord Lovat and his Highlanders are marching to save a group of commandos who had captured an important bridge. The piper marching with the men is a sight that stirs my blood.
Then, in the Battle of Britain, the Polish squadron are in the air. They're still undergoing training. German fighters appear and the Poles sheer off one by one to attack. They pretend their radio isn't working so they ignore their instructor not to attack. What a moment!

I served 25 years as a Royal Naval officer between the RN and the RNR. I qualified as a Minewarfare and Clearance Diving Officer in the RN and over the years I met a number of Bomb Disposal Engineers from WW2. Their bravery was inspiring yet at the same time they showed humility for their achievements. When they told their stories – if you could get them to talk about them – it was always in an understated manner.
The field of poppies at the Tower of London is probably the finest tribute to our dead that I have seen. It is awesome as well as dreadful to think of the lives represented and the sacrifice made by men and women so that we are free today.
And what do politicians do? All words and no action when it comes to looking after the troops. But no surprise there.
On a totally different note we have put together some Christmas specials and also are offering a FREE download of A Million Tears today (16th Nov). Finally Dorothy has asked me to mention a great new book 60 Minute Business Transformation  by Martin Robertson.  Dorothy knows Martin and is so impressed by the book she is telling everyone about it.  If you are in business this is well worth a read.
Why am I an author?
It's an interesting question because, believe me, it's not for the money. As a small child I loved making up stories and games and I lived in a wonderful world of make believe. At school this translated into writing essays which always gave me pleasure.
I can escape real life and control the actions of my characters. Well mostly.  It is difficult to explain – for sometimes it feels like they have lives of their own. When I am engrossed in writing I don't always know where David, Sion, Nick, Susan and the others are taking me.  Dorothy tells the story of bringing me in a cup if coffee when I was writing Tears II and I said "Sion's on a train and has met this women Kirsty – it wasn't meant to happen – I don't know where it will lead!!"  That unexpected twist that readers enjoy so much – it is even more exciting for the writer. This has resulted in me being wide awake in the middle of the night more times than I care to remember.
I can also ensure a happy ending to a story when we all know happy endings are often not the outcome of real life events.
But there is another element to why I write and that is the effect on others. I have had many e-mails and letters over the years from people who have been kind enough to tell me they have enjoyed my books. I have received messages that both humble me and make me glad that I do what I do.
I'd like to share part of an email I received a couple of weeks ago:
"Mary had survived the 2nd world war age12 by sleeping under her bed with a torch and a mattress surrounded by her books. She escaped into another life and forgot the horrors of war.
Mary read all your books during her 3 years of cancer and took great comfort reading them until her final exit.
 I was looking for a gift for Christmas and when I saw you with your books little did I know the comfort you would bring over the next 2 years. I bought 3 books and mum was delighted with her gifts.  I then bought more from you the next year for mum's birthday and you were very kind as to pop in with them to her home. That day you made a very old lady's day. Mum enjoyed your visit and was always interested in everyone she met. You were top of her list.
Thank you so very much for your kindness and for helping Mary through a very painful 6 weeks before she died."
As I say very humbling and Dorothy shed a few tears at reading this heartfelt email.  I asked Mary's daughter if I could share the above.  To me it is a tribute to every writer whose occupation is frequently a lonely one. There are very few writers who gain the public acknowledgement, the plaudits and awards.  To me the words of Mary's daughter are worth a million accolades.

On that sobering note I would just like to say that A Million Tears is being promoted on Sunday 30th and Monday 31st March on Kindle and you can download it for the giveaway price of nothing, nil, nada, gratis, zilch – you get the message.  And finally to all the Mums out there – have a wonderful well deserved Mothering Sunday.
A dry January
The heading refers to my liquid intake – not the weather which is far from dry.
My New Year's resolution was not to drink alcohol throughout January. Now bear in mind I am an author and I have a tradition and even an obligation to maintain the reputation that authors are hard-drinking blaggards. Only kidding, of course, but it is tough.
Think about it. 18.00, the sun is over the yardarm, the fire is lit and Dorothy arrives home. We settle down to play a word game called UPWORDS, a sort of Scrabble where you can place tiles on top of each other as well as across the board. The crisps are in the bowl and…No wine! No beer! Only tonic water or soda water!
The first couple of days were tough. My hand itched when I was in the kitchen, reaching out automatically for the red wine when I castigated myself.  I was most definitely NOT feeling combobulated.  I wanted a glass of wine but I resisted. As Oscar would say "I can resist anything but temptation."
But I continue to resist – proof that naval officer training can come in useful at times. And it is really no problem. You see how we author's are able to write fiction so easily? Self-delusion is a good place to start. It has been 17 days and I can't wait for February.
This weekend, The Seventh Circle (click here) is being promoted on Kindle. For those of you who don't know, it is a thriller set against the background of revenge and terrorism. The main character is Richard Griffiths, who is Nick Hunter's cousin. Hunter is the main character in the TIFAT series -The International Force Against Terrorism, and comes to his cousin's aid.
For Kindle users the book is free for the next 3 days. So do the electronic thing and download the book and sit back, relax and enjoy. A glass of wine greatly enhances the pleasure of reading.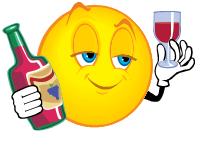 Did I say I was looking forward to the end of the month?
Shadow of a Tear now available on Kindle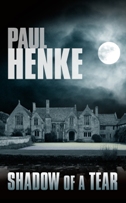 We are delighted to say that the fifth and final book in the Tears Series is now available on KINDLE.
Set in the post war years it is a real roller coaster of a read. As the Cold War rages and conflicts erupt around the world, the next generation of the Griffiths family fight in their different ways for their beliefs and ideals. And behind them as always – Sir David; stubborn, determined and ruthless with those who dare to harm his loved ones.  To download just click one of the following links  UK version  , USA version
The paperback version will unfortunately not be available before Christmas. We will let you know after New Year when this is published.
To keep in touch with future free downloads and special offers just subscribe to Paul's blog. Not only will this ensure  you don't miss out on a bargain, it will also give you an insight into the life of an author.
Paul's first ever book Never a Winner – limited copies available
It is amazing what you find -  We are putting our house on the market and when clearing the attic came across a box of Paul's first ever book "Never a Winner".  It is a hardback and set in the Cold War when the Russians were the baddies (?!).  The hero is ex-marine Steve Barber and as you would expect there is lots of action.  You can get your personalised signed copy for £5 plus £2.50 P&P.  Phone Paul or Dorothy on 01360 440013 and we can take details and post you out a signed copy.
Happy Reading.