Bella Italia – (the country not the restaurant)
Date posted: September 14, 2012
Dorothy and I have just spent 11 days back-packing in Italy and Switzerland. It was great fun. It all started at the airport when we arrived with relatively small bags slung over our shoulders. Other passengers were dragging massive suitcases behind them – I must admit to a feeling of superiority over the poor souls struggling with their cases!
At security we were x-rayed and searched. Naturally, they confiscated my deodorant, took a look at my Gillette safety razor in case I could use it as a deadly weapon – not even Nick Hunter could manage to do that – and then let me through. What a relief! Only one item taken off me and I wasn't arrested.
At Pisa we waltzed through passport control and out into the sunlight of Italy. After Scotland's summer, I admit it took a few seconds to remember that the yellow thing in the sky was called the sun and that too much of it caused dehydration, sunstroke, skin cancer and sunburn. The sensible thing to do was to cake ourselves in sun cream. I said sensible so of course, Dorothy did it while I stood in the rays enjoying the warmth.
Using a Royal Naval analogy, as I am the Captain, I had delegated all the planning of the trip to Dorothy. She tells me where we are going, where we are staying, how we are getting there etc.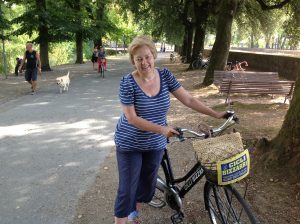 From Pisa it was a bus ride to the beautiful walled down of Lucca. We had been recommended a place to stay – La Gemma di Elena  – which was a B&B with plenty of character and a warm welcome. We wandered around the town, looking at the sights, enjoying the sunshine and checking out the restaurants. We were hand-in-hand, like any young (middle aged) couple in love, who relish the romanticism of Italy. Dinner was good, the prices reasonable and the evening reminded us to purchase anti-mosquito spray the next day. The damned things love Dorothy but are more indifferent to the taste of my blood so I don't get bitten so frequently. That's not to say I don't feel every bite she receives. She always kindly lets me know, no matter what the time of the day!
In the morning we hired bikes and toured around the top of the wall surrounding the town enabling us to have a good look at the place without walking for miles, dodging traffic and resisting the temptation to visit the boutiques with their clothes which are 10 times the prices of Asda and Tesco. I guess that reveals where I get most of my designer clothes from. Later that day we took the train to Bagni di Lucca, about 40kms away. The cost of train and bus travel in Italy is very cheap and the trains modern and comfortable. Being the cynic I am, I suspect these are subsidised by the fortune we give to the EU.
Dorothy had booked us into a delightful hotel which boasted a swimming pool. However, what the website didn't mention was that the actual pool was about 1 mile away in another hotel owned by the same company. The walk was invigorating, calorie depleting and increased our fitness levels. It also made us feel good about the first beer of the evening as we walked back to our hotel.
A few days later we took the train to Rapallo where the highlight was our son, Richard joining us from Switzerland where he is now living. The 3 of us then went north to Lago d'Orta to see my son Oliver and we had a few days with him on his boat.  He is a world class "hydro-foiler" – amazing to watch. We ended our trip with a few days in Switzerland with our gorgeous 3 year old grandson Nate.
The trip has given me ideas for another Nick Hunter story but this winter I will be writing the 5th in my "Tears" series.  If you are signed up for my blog, http://www.henke.co.uk/category/blog/feed/ I'll let you know how the new book is coming along.
Once again, A Million Tears will be FREE to download this weekend the 15th and 16th Sept.  Please do share this news with your friends. We had over 9500 downloads last month and I know a huge amount of these were recommendations from existing readers for which I am very grateful.
Let's all hope for an Indian Summer!