The Sunday Post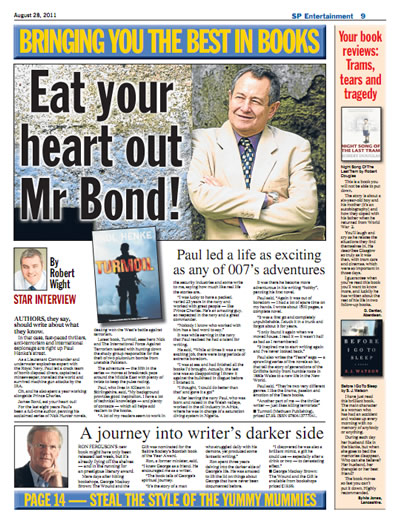 "Star" interview with Paul in the Books section. Thanks to Robert White.
Authors, they say,
shouldwrite about what they know.
In that case, fast-paced thrillers, anti-terrorismand international espionage are right up Paul Henke's street.
As a Lieutenant Commander and underwater explosives expert with the Royal Navy, Paul led acrack team of bomb disposal divers, captained a minesweeper, travelled the world and survived machine gun attacks by the IRA. Oh, and he also spent a year working alongside Prince Charles. James Bond, eat your heart out!
For the last eight years Paul's been afull-time author, penning his acclaimed series ofNickHunter novels, dealing with the West's battle against terrorism.
Latest book, Turmoil, sees hero Nick and The International Force Against Terrorism tasked with hunting down the shady group responsible for the theft of two plutonium bombs from unstable Pakistan. The adventure—the fifth in the series—moves at breakneck pace around the Middle East with plenty of twists to keep the pulse racing.
Paul, who lives in Balfron in Stirlingshire, said, "My background provides good inspiration. Ihave a lot of technical knowledge—and plenty of contacts—which all helps add realism to the books. "A lot of my readers seem to work in dealing with the West's battle against dealing with the West's battle against
the security industries and some write tome, saying howmuch like real life the stories are.
"Iwas lucky to have a packed, varied 23 years in the navy and worked with great people—like Prince Charles.He's an amazing guy, so respected in the navy and a great
commander. "Nobody I know who worked with him has a bad word to say." It was while serving in the navy that Paul realised he had a talent for writing.
He said, "While at times itwas a very exciting job, therewere long periods of extreme boredom.
"I was at sea and had finished all the books I'd brought. Actually, the last one was so disappointing I threw it against the bulkhead in disgust before I finished it.
"I thought, 'I could do better than that' and gave it ago!"
After leaving the navy Paul, who was born and raised in the Welsh valleys, worked in the oil industry in Africa, where he was in charge of a saturation diving system
in Nigeria.
It was there he became more adventurous in his writing "hobby", penning his first novel. Paul said, "Again it was out of boredom—Ihad alot of spare time on my hands. I wrote about 1500 pages, a complete novel. "It was a first go and completely unpublishable. I stuck it in a trunk and forgot about it for years. "I only found it again when we moved house. I read it—it wasn't half as bad as I remembered!
"It inspiredme to start writing again and I've never looked back."
Paul alsow rites the "Tears" saga—a sprawling series of five novels so far,
that tell the story of generations of the Griffiths family from humble roots in 1880s Wales to a new life in the New World.
Paul said, "They're two very different genres. Ilike the drama, passion and emotion of the Tears books.
"Another part of me—the thriller writer—just likes killing terrorists!"