Audio book on its way !
Date posted: March 29, 2015
At this time of the year my thoughts turn to spring and summer. I'm a warm blooded kind of person. I like it sunny and hot. It means barbeques, cold beers and cool wine.
It also means wandering the UK appearing at events, doing the all important promotional work. So I'll be travelling far and wide, from the north of Scotland to deepest South Wales and many places in between. My website shows where I will be and when. I have many more to add and should be finalising details by Easter.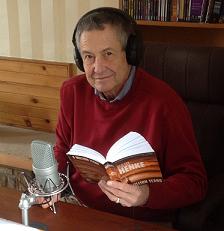 The big news is that we are creating an audio book of A Million Tears. This is something Dorothy and I have been talking about for the last four years. Thanks to the incredible knowledge and ability of Philip Marno, the books producer, we should have the finished article in about 4 or 5 weeks. Philip has been amazing – without him we would have been lost.
The book is being narrated by …… ME ! Of course, like many people, I don't like the sound of my own voice but I am told by the associate producer (Dorothy) that it works well.
When it's available for download I'll let you know.
Readers all over the world have been downloading my books via Kindle.  We have had a flurry of reviews on amazon.com for A Million Tears.  We plan to offer it as a FREE download over Easter. It is sitting at 98 reviews at the moment – we are wondering whether you could help us get this to over 100? Just click A Million Tears and write your comments. We would be very grateful. If you have already written a review then a huge thank you.  It makes a significant difference when we offer Kindle promotions
Anarchy is now typeset and the book cover has been designed. It should be available in paperback by the end of May at the latest.  I will do another blog when we are ready to take orders. 
I hope to see you sometime, somewhere, during my travels this Spring, Summer and Autumn. Just check the Book Signing schedule for dates and venues.
Happy Easter when it arrives.