Christmas Greetings and News
Date posted: December 6, 2017
I know it isn't just me but it seems Christmas comes around more quickly as each year passes!
That's the moan out of the way, now for some good news.
The new TIFAT book is being published by Methuen on 18th December. It is titled Retribution and deals with the smuggling of people into Europe. As is the case with the other books in the series there are plenty of twists and turns and enough excitement to keep you page-turning.
Also A Million Tears is being launched as an audio book! It has been accepted by the organisation that puts these things up for downloading – what a contradiction in terms – and will be available in 10 to 14 days on Audible and iTunes. The reader has a soothing voice with a distinct Welsh accent – ME!!
So I hope those of you who listen to it will enjoy the story.
Thanks to the producer Philip Marno who has done an amazing job. It was a much bigger project than Dorothy or I thought. We will now be investigating making one of the Nick Hunter books into an audio book sometime in the New Year.
The Candidate was also published in October – KINDLE ONLY I am afraid at least for now.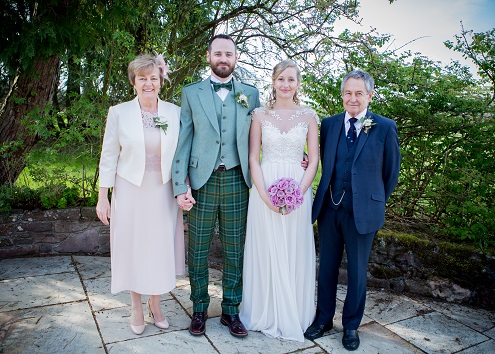 There were two major events in the year. The first and happiest was our beautiful daughter Louise was married. Her husband David is a kind and generous guy and someone who makes an entertaining dinner guest! (The highest accolade I can think of).
The second major incident was on the weekend of the wedding, just as the festivities were over, I slipped and fractured my back at the 12th vertebrae. All three bones protecting my spinal cord were broken and the doctors told me that in theory I should not be walking. However, my cord remained intact and I am back to normal apart from an odd ache if I carry heavy weights or walk too far.
The events could scarcely be more diametrically opposed – a strong reminder that life is unpredictable and we have to make the most of every day!
Thank to everyone who has given support and feedback over the year.  Also the very kind reviews I have received on Amazon.  I really appreciate the fact that readers have taken the time to do this.
Let me take this opportunity to wish you all a very Merry Christmas and a Happy 'reading' New Year.