Skydiving in Switzerland
Date posted: June 14, 2015
"Dropping through space was exhilarating. In the warm cocoon of their suits, breathing oxygen, the false sense of security left them with a feeling that was indescribable. There was no fear, no thought as to what might happen if their parachutes failed. Just an adrenaline rush that was completely intoxicating. In the moonlight they could see lights scattered for miles across the country."
Extract from Mayhem. A Nick Hunter thriller
I guess there is still dare in the old (or is that oldish?) devil yet.
I've just been to S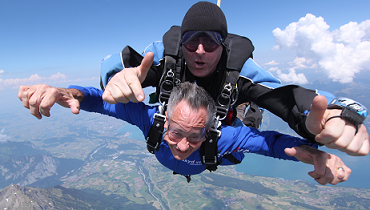 witzerland where I did a skydive. I leapt out of a perfectly sound airplane, plummeted for about 50 seconds – you know the position. Arms and legs extended, belly down, smile (or is that a grimace?) on the face. The chute opened, I dropped to a vertical position and sailed serenely towards the earth. I landed on my backside with my feet and legs in the air and slid along the ground to a halt.
Unlike Nick and Co, I did this in daylight, and was strapped to a professional skydiver.  Oh and I was not going to have to run 3 km on landing in order take out some deadly terrorists and rescue two hostages!
But since the jump, Dorothy insists on referring to me as "Nick". If you are new to my books, Nick Hunter is the diving and bomb specialist in my TIFAT series of thrillers.
It was what I used to do. Except Nick Hunter is taller, tougher, better looking, traps the women a damn sight more easily than I did (before I met Dorothy – what did you think?) oh, and he's also younger by about 3 decades.
Still, he's the alter ego – in my head, that is.
If skydiving is something you are considering then I can strongly recommend Skydive Switzerland.  The guys were professional, re-assuring and had a good sense of humour: "Hi Paul we've teamed you today with Dangerous Dave !!!"
As a 65th birthday present from my sons Richard and Oliver, it was an exciting experience and great fun. Another objective ticked off my bucket list.
That's all for now. Anarchy has just launched as a paperback and I have another thriller due pretty soon. When it's published, I'll be in touch. Hope to see you over the summer- I am out and about quite a bit. Next weekend (20th, 21st June) I am at the Bon Accord Steam Engine Club at Sauchen near Inverurie.  – Click here for my schedule